Order your microfluidic glass chip on demand!

Easily get your specific microfluidic glass chip for your experiments!

To offer you this relevant and complementary service, BlackHole Lab works with Klearia, a French and innovative company.
You have a great design and need the chip but you can't or don't want to do it by yourself? It's not a problem! We can help you by quickly creating your specific design with high precision.
We also offer the possibility to use pre-designed chips that have been already widely used in the field (flow chemistry, analytical chemistry using different electrodes,…).
Affordable glass devices

Fast exchange for a custom made device to fit your needs

Add electrodes
CUSTOM MADE SERVICES
We offer experience in designing and developing customized microfluidic chips tailored to your needs. You can take the benefit of :
expertise and accompaniment
support from conception to fabrication
personalized services
responsiveness and care to details
Depending on your needs, we integrate your constraints and design your chips, thus you can concentrate on research and applications. A set of simple design rules and standard formats lets you easily and economically design chips for your specific needs. Our technology allows new embedded functions in a lab-on-a-chip. Since now you can imagine new designs; innovating in microfluidics is now possible.
Take the plunge !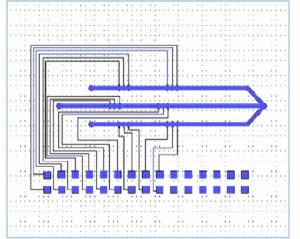 Klearia products range for Research : LabInGlass®
LabInGlass®'s microfluidic chips are fabricated with glass (D263, Pyrex 7740, fused silica…) to the highest quality standards. A wide range of patterns are available depending of your microfluidic needs. The range LabInGlass® is made of microreactors and sensors (electrochemical).
MICROREACTORS LabInGlass®
Our microfluidic solutions integrate spatially controlled functionalization to generate catalytic reactions (metal coating) and that potentially allows to modulate wetting properties (polymers coating).
STANDARD TECHNICAL CAPABILITIES
Microchannel depth: 0 to 200 µm
Chip Size: 20 mm/30 mm – 20 mm/46 mm
Reactional volume: from 0.2 µl to 15 µl
Patterns Available
APPLICATIONS:
ELECTROCHEMICAL SENSORS LabInGlass®
Klearia manufactures devices of one microfluidic channel allowing multiplexing detection. Each microfluidic channel is fitted with 2 sets of 3 electrodes (working electrode WE, counter electrode CE and reference electrode RE). Due to our exclusive and patented technology, we are able to propose different materials for electrochemical sensors: gold, platinum, ITO or carbon electrodes.
STANDARD TECHNICAL CAPABILITIES
Microchannel width: 1 mm
2 sets of 3 electrodes (for additional, see prototyping)
RE and WE electrode width: 1 mm
CE electrode width: 3mm
Space between electrodes: 1 mm
Electrode materials: Au, Pt, a-CN
Klearia provides you with a plug & play starter kit which makes the product easy to use
APPLICATIONS:
ULTRALOW DETECTION
BIOSENSORS
ENVIRONMENT
ConnectIn'Glass
Klearia develops a new standard for easy fluidic and electrical connections : plug & play, dedicated to confirmed or unexperimented microfluidic users. A new way to connect your Lab-On-a-Chip.
FAST: less than 5 minutes
EASY: tool free and user-friendly
ROBUST & SAFELY: no risks of breaking
Fluidic connections
Insert easily consistent fluid connections to the chip.
Mechanical connections
Lock your device thanks to 4 screws.
Electrical connections
Connect your electrical instruments in few seconds.
Specifications
dimension: length – 14,1 cm I width – 12 cm I heigth – 2 cm
material : PP
electrical connectors: 14 banana connectors
fluidic connectors : 1/16 in
Non contractual pictures – BlackHole Lab reserves the right to modify any item without prior notice
For general information
For further information, do not hesitate to contact our team of experts:
contact@blackholelab.com or phone: +33(0).782.831.207