FLEXDYM
A NEW POLYMER FOR MICROFLUIDIC PURPOSE
Discover a new polymer: FLEXDYM

Flexdym is a copolymer block solution, composed of Di or Triblock according to the different grade. Its similarities with the PDMS but without the drawbacks make it the perfect candidate for microfluidic chips.
We created a Flexdym kit presented here, including all the equipment and accessories to easily and quickly do your Flexdym chips.
An alternative to PDMS

Transparent and cell culture friendly

Highly customizable

Very easy to use and to bond
The perfect transition between research and mass production
Flexdym has also been created to offer a solution to companies and research laboratories for transition between research and commercially viable products and thus compatible with mass production.
Indeed the Flexdym has a really quick manufacturing time and it is compatible with well known production facility as hot or roll embossing.
Benefits
Easy to use
Really fast fabrication
None permanent to permanent bonding without applied pressure down to room temperature
Integration 3D fluidic, surface modification, biological reagents
Biocompatible PCRs, DNA, proteins, cells culture…
Large mechanical and chemical spectrum
High impact on master mold accessible technology and cycle time
Included
Equipments
Heat press
Hot plate
UVcuring pointer
A spin coater can be added if working with the FLEXDYM liquid solution

Accessories & Chemicals
All chemicals (Flexdym, Isopropanol, Acetone, etc.) and all lab accessories (glass slides, Petri dishes, scalpels, etc.) are included, in order to provide you the most complete set.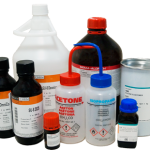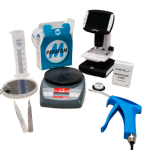 We give you all the product references and providers information to refill your stock.
Our specialists selected and adapted the best instruments to make them work together with reliable process. You can find here a short description of the equipment. Please don't hesitate to contact us to have more information and keep in mind that we have several model to fit for the best your needs.
More than the equipment in this kit you can choose the different grade of the Flexdym, quickly describe here.
FLEXDYM
There are 4 kind of Flexdym for now, we present them here but if you have any question please send us an email.
Flexdym Basic: It is easily moldable and requires minimal pressure to create microstrucutres from your mold. It is recommended for opening microfluidic chips such as creating microposts for live cell immobilization.
Flexdym Pro: It is adhesive and stiks very well to itself, glass, and some hard plastics through thermal bonding to seal your microfluidic devices.
Flexdym Ultra: It thermally bonds to hard plastics for a tighter seal. Ultra is more physically durable than other Flexdym products with higher tear and tensil strengths.
Flexstene F: It is our most inert sheet with high chemical resistance for sensitive assays.
| | | | | | | | | |
| --- | --- | --- | --- | --- | --- | --- | --- | --- |
| Product | Sheet size | Sheet Thickness | Molding temperature | Harness Shore A | Specific Gravity | Tear Strength | Tensile Strength | Elongation |
| Flexstene Basic | 10cm x 10cm | 1.5 mm | 160-170 °C | 30 | 0.9 g/cm3 | 19 kN/M | 5.2 MPa | 850% |
| Flexstene Pro | 10cm x 10cm | 0.7 mm | 160-170 °C | 40 | 0.9 g/cm3 | 14kN/M | 7.4 MPa | 700% |
| Flexstene Ultra | 10cm x 10cm | 1.0 mm | 160-170 °C | 40 | 0.9 g/cm3 | 25 kN/M | 17.5 MPa | 1000% |
| Flexstene F | 10cm x 10cm | 0.3 mm | 210-220 °C | 70 | 1.9 g/cm3 | 27 kN/M | 11.9 MPa | 650% |
HOW TO USE IT?

Flexsdym is a really easy to use material. It's in the form of films, the size of a 4inches square is adapted to almost all microfluidic devices. The film form enables to have a product ready to use, no need to mix or degas any component.
As PDMS, Flexdym needs a mold to mimic a design. Of course a SU-8 mold can be used but also PDMS itself, Epoxy mold, aluminium…
A simple hot press and few seconds are sufficient to make a microfluidic chip.
Flexdym can be bonded to itself or on other plastics and glasses. This versatility enables imaging a wide range of devices.
AN ADAPTIVE OFFER!
Since each laboratory is different, since each research is unique, we do adapt the offer to be as close as possible of the real need. We discuss together what will be the best efficient facility and thus add or remove equipment, accessories, chemicals…
Do not hesitate to ask one of our technico-commercials to make an assessment of your facility and to advice you on your project.
OPTIONS
We have created basic offers with everything needed to have a complete working set, but some options or some modification can be done to fit better your needs. So first regarding the alternative you can have a look on our entire product range especially on our "Innovative solution" and "Improve your station".
Besides this we gather here a selection of side equipment more suitable for your PDMS station.
Air compressor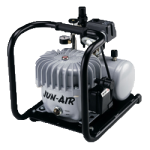 A fitted air compressor up to 8 bar to replace any gas line of your lab.
Ultrasonic bath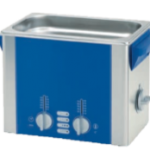 To have a prefect cleaning at any step of your process.
Non contractual pictures – BlackHole Lab reserves the right to modify any item without prior notice

For further information, do not hesitate to contact our team of experts:
contact@blackholelab.com or phone: +33(0).782.831.207