SoftLithoBox® – Full soft lithography station
Create your own master molds and PDMS chips out of the clean room
The full softlithography station, includes everything you need to fabricate molds and replicate PDMS devices directly in your lab. Our pack includes all equipments and support to produce chips autonomously.
A Turnkey offer to fabricate SU-8 mold and PDMS chips
Our soft-lithography station is a turnkey offer, no need to acquire any additional equipment. Basically, only a chemical fume hood and a little working space is required.
We adjust the offer, together, to be fine-tuned to your needs.
It a complete station with all the main and side equipment ( Oven, Desiccator, Spin coater, UV Lamp, Hot plate, Air compressor, Vaccum pump), all the chemicals (SU8, developper, TMCS, Acetone, Ispropanol, PDMS, adhesion promoter), all the accessories ( Silicon wafers, tweezers, glass slides, Petri dishes, disposable cups, stirring rods, scalpels, etc.) , and all the support you need to be immediatly autonous in your fabrication.
Support
Standard support pack: We take care of the after sale of all your instruments, we provide you microfabrication process-sheet and tutorials, we provide you 1 years phone assistance to answers any microfabrication questions you could have.
Extended support pack: In addition to standard pack our R&D team install the softlithobox directly in your labs, we adapt on site all our microfabrication process to your needs and we train your team until there become ready to fabricate all your microfluidic chips.
Included instruments
Our specialists selected and adapted the best instruments to make them work together with reliable process.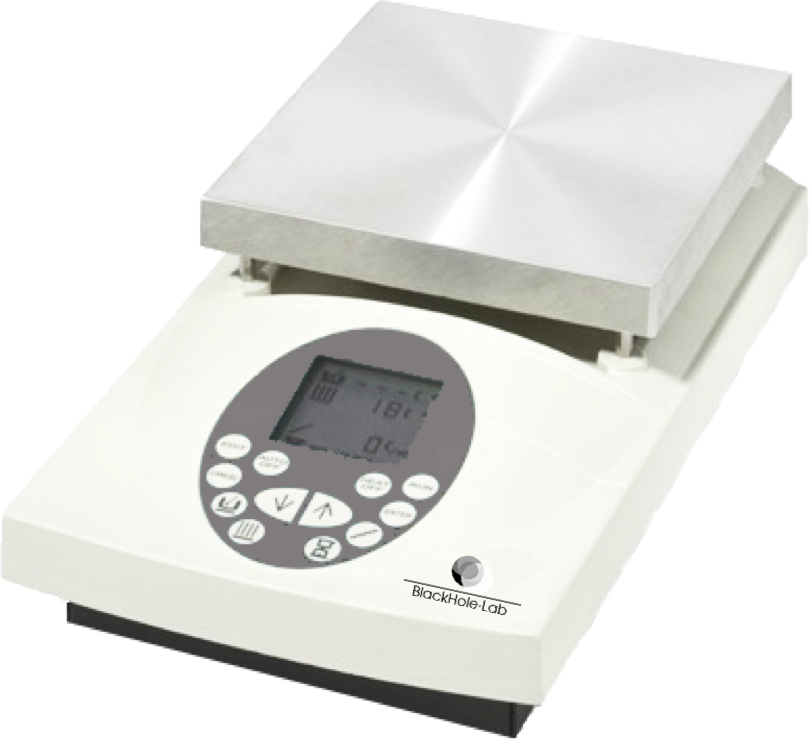 Ensure accurate, homogeneous and stable temperature set points. This digital hotplate device enables to set temperature ramp for heating and cooling down. Make your life easier with its programmable controls which enable to automatize your photolithography process.
A device adapted for Soft-lithography applications
Its aluminum top plate and its great heating surface area enables to have a wide enough zone where the temperature is homogeneous for an efficiently bake of SU-8 photoresist on a 4 inches wafer. The temperature ramp enables to reduce the mechanical stress inside the photoresist layer. The programmable tool enables to do long photoresist bakes without staying in front of the device.
Temperature ramp to heat up and cool down
High temperature uniformity over 4 inches wafer
No temperature sensor drift over time
Microprocessor display maintains consistent temperature
Minimal temperature overshoot
Automatic timer
Smoothed aluminium plate for easy photoresist cleaning
Control time count, temperature and set point directly from your PC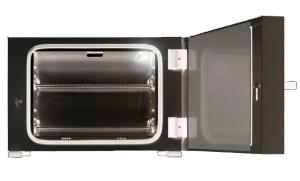 Natural convention drying oven. Frontal panel with bimetallic fluid expansion probe thermo regulator. This oven sized for 4 inches wafer will allow you to cure your PDMS efficiently.
A device adapted for Soft-lithography applications
Size adapted to a Petri dish and to heat two molds at one time. Its minimum footprint enable fast pre-heating and small electric consumption. It is a really movable device and can be install everywhere.
Easy to use
Internal chamber in aluminum for a better heat diffusion
Adjustable flow air going inside the chamber for venting
Small footprint adapted to 15 mm Petri dish
Two internal shelves
Light warning during heating
Timer goes from 1 to 120 minutes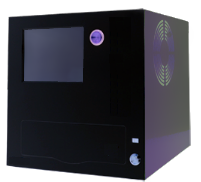 An unique UV LED exposure and masking system (in option) with available light sources at wavelengths of 365 nm or 385 nm. This is a very compact table-top system capable of exposing a wafer surface area of up to 4 inches in diameter. This automatic UV system is compatible with hard (physical) or soft (proximity) masking contacts, and features variable mask to substrate distance control.
A device adapted for Soft-lithography applications
With 2μm resolution, the device is particularly well tuned for soft-lithography applications. The exposure in flash enables to reduce the internal mechanical stress of the photoresist. Its little size enables to install it everywhere you want, especially outside a clean room.
Perfectly monochromatic exposure over the wafer surface area (bandwidth lower than 10 nm)
Cold UV exposure
Divergence angle of the light < 2°
Strong power density
Long LED lifetime: more than 10 000 hours equivalent to 8 – 10 years of use
Fast switch on/off of the LED enables to flash the photoresist
User-friendly touch screen interface for exposure cycles programming
No warm-up time required
Intuitive control of UV source intensity
Automated wafer loading and unloading system
Usable with glass and plastic photomask
Directional UV beam
No variation in time of the UV power
High UV uniformity on 4 inches wafer
Integrated UV meter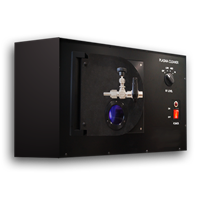 The first plasma cleaner designed specifically for PDMS bonding, this automated plasma enable to easily fabricate your PDMS microfluidic device. Thanks to its vacuum feedback loop, this plasma cleaner automatically regulate the vacuum inside the chamber without need of hand tuning.
A device adapted for Soft-lithography applications
This plasma has been specially optimized for PDMS bonding, with glass or PDMS. Its unique vacuum feedback loop enable you an automatic and reproducible PDMS bonding.
Automatic pressure regulation for easy PDMS bonding
Low pressure drift gauge for reproducible process over time
Secured vacuum pump to avoid contamination of plasma chamber
Three RF power available
Numeric vacuum gauge
Fine vacuum tuning compatible with 3 to 6 inches wafer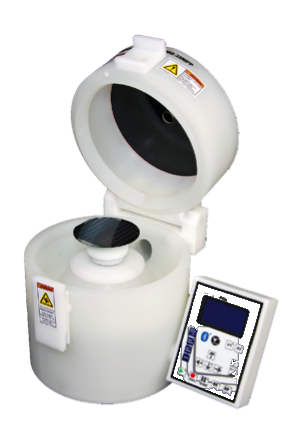 This spin coater is compact and packed with advanced features. It works with wafer up to ø150mm and 5″ × 5″ (127mm × 127mm) substrates. This spin coater is perfectly fine-tuned to do controllable and repeatable Su-8 photoresist layer.
A device adapted for Soft-lithography applications
Its compact size with the little panel control attached make the device really movable. The product has been widely use for SU-8 photoresist coating. The hole on the lid enables to do dynamic SU-8 coating.
Designed specifically for ease-of-use
Simple to program from the operator panel or your PC
Ability to set complex sequence with several accelerations and speeds
Easy to clean
Non clogging system for extended lifetime
Low vibration
Speed up to 12000 rpm
Provided with wafer centering tool
Non contractual pictures – BlachHole Lab reserves the right to modify any item without prior notice
For general information
For further information, do not hesitate to contact our team of experts:
contact@blackholelab.com or phone: +33(0).782831.207